Friday, February 19, 2010
1:27 PM
|
Edit Post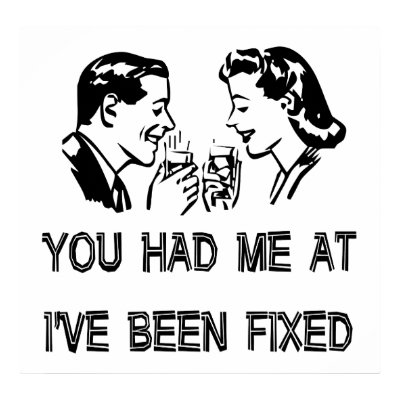 The other day, I came across a link called
"10 Scary Childbirth Facts That'll Alarm You More Than Your Biological Clock". What a gem that was! If your head is feeling crowded and you need to leak some brains out, I recommend reading it! Then today, I came across this Momversation.com video called "Childfree by Choice", where some "mommy bloggers" discuss the issue. You know, after reading/watching those things I have to say to some of the people out there, THANK YOU for choosing to be child free. I am sure (or at least hopeful) that not everyone in the "childfree by choice" portion of society is not as ridiculous and stupid as what I have come across, but for those who are, I'm GLAD they aren't breeding. Hell, I've been saying for ages that stupid people shouldn't breed. At least there are some people smart enough to acknowledge that they are too stupid to breed (that makes sense, I swear)!
"
I'm 99% sure when I do maybe eventually have a kid (emphasis on maybe) I'm going to have a planned c-section. I'd prefer a scar on my bikini line than scars on my vag, thanks. I don't feel the need to have "the experience" of childbirth, no need at all.
"
You MEAN you'd rather put yourself and your baby at much greater risk, have major surgery with a
guaranteed
scar on your bikini line, your muscles, AND your uterus, spend weeks recovering, and possibly have a lifetime of weird and unpleasant after-effects just to avoid the
small
possibility of having a scar on your perineum? Where is my forehead-sized "IDIOT" stamp? I truly hope you are infertile.
"This is why I'm so thankful that I'm only 16. I'm giving myself another fifteen years (at least) before I have kids, and thats fifteen years to let technology develop to maybe make it just a bit easier on me"
I'll give you a break since you're only 16, but what do you expect to happen technology-wise that could possibly make it "easier"? Perhaps we'll learn how to beam babies out of the uterus all Star Trek style! Yeah, that's it.
"I see a child as a curse and a detriment to the whole planet."
Wow, what a pleasant human being you are! You realize that YOU used to be a child right? It certainly is a good thing you don't WANT to procreate, but I hope that no one is stupid enough to sleep with you and risk an accidental "curse".
I like how another commenter responded to this gem: "
So if we already have too many people for this planet, how about you be the first to help out with this dilemma
?". Haha! indeed.
"Im terrified to have kids. I weighed 13 lbs when I was born and my mom was in labor for 2 days :( also, she never fails to remind me that she had to have 60 stitches from her episiotomy/ being ripped down there. So, Im not really in much of a hurry to pop out a little guy or gal, and Ill prolly go for a c section too…. Besides the fact that you recover waaaaaay faster from a c section than from a vaginal birth."
-headdesk- I... wow. Not even sure where to start with that one, but again, thank you for not breeding.
"GOD, having a stretched out vag scares the crap out of me. Yeah, some people's go back to normal, but hell…what if mine doesn't? This thought will be terrorizing me waaay after my kid is born"
Better not ever open your mouth either. Might stretch out and stay that way, right? You'll be doing this world a big favor if you keep your yap AND your legs shut.
"Personally I don't want kids. I don't want to ruin my body and put my relationship on hold for 18 years to take care of a brat. I also absolutely despise kids; screaming babies make me feel very, very violent. I'm just not a mother person."
First of all, my body is not "ruined" and neither is anyone else's. If YOU have a problem with the way your post-partum body looks, do something about it, or heaven forbid- get over it and learn to love the new you. As far as relationships go, they are hardly "put on hold" when you have a child. Unless you're a stupid, selfish little brat yourself, parenting can bond a couple with unique experiences, the shared special love for your child, and even build your relationship stronger through overcoming challenges. But ya know, I don't expect any of that to make sense to a person like you. Thank you for not breeding. May I suggest a therapist for those violent feelings?
I will spare my lovely readers from any more of this insanity. I was hoping to do more exploring of the Child Free online world, but this crap just makes my head hurt too much.
If you don't want to have a child, that is friggin grand. I respect those that simply know themselves well enough to realize that parenting isn't for them. There are plenty of people in this world that should acknowledge that fact about themselves BEFORE they spawn, but alas. I'm not saying that all child-free people are like the above examples, it's just disturbing that apparently many of those that choose to speak out about it online don't even have two brain cells to rub together.
I respect the choice to be child-free, but don't spew mis-information and mis-perceptions about pregnancy, birth, and parenting in general. Just own your choice and be happy with it. No need to put down children (you WERE one) or parents (you have/had some). Parenting is hard, and yes, sometimes just plain gross, but at the end of the day, it is infinitely more awesome than it is hard or gross. If you don't have the mental and emotional capacity to understand that, then I actually feel kinda sorry for you. If you don't want to go through the hard stuff so that you can experience the good stuff, that's fine with me, but don't act like the rest of us are crazy for actually appreciating the process and the gift of human life despite the challenges that go with it. Maybe your mother bugs you about having children, but I think it's safe to say that most of the world doesn't give a shit whether you do or not, so just relax and enjoy your life, childfree or not.

Blog Archive

My Blog List