Wednesday, June 30, 2010
12:20 AM
|
Edit Post
I was listening to the radio in the car today, and they were talking a bit about how sometimes total strangers or even people you know will randomly come up and criticize your parenting. "You're feeding that baby wrong", "You've got to get him sleeping on schedule", "Why isn't she wearing a hat in this weather?" et cetera, et cetera, ad nauseam.
They asked for the biblical perspective on how to respond in these type of situations. I usually refrain from bringing up religion, but hopefully whatever your personal beliefs may be, you can acknowledge there is *some* wisdom to be found in the Bible. *end disclaimer*
A verse they quoted was this:
"Do not rebuke a fool or he will hate you;
rebuke a wise man and he will love you."
I like how the Message version of the Bible elaborates on this:
"If you reason with an arrogant cynic, you'll get slapped in the face;
confront bad behavior and get a kick in the shins.
So don't waste your time on a scoffer;
all you'll get for your pains is abuse.
But if you correct those who care about life,
that's different—they'll love you for it!
Save your breath for the wise—they'll be wiser for it;
tell good people what you know—they'll profit from it."
I can especially relate to this in the world of Facebook and blogging. There are some people that are truly impossible to reason and communicate with.
They talked about how we need to consider the type of person we are talking with in the situation. There are times when we can just politely (or not, lol) blow a person off because they would never hear us through their ignorance anyway, and other times when we may be able to say "Thanks for your concern, but actually here's what we do and why..." and be met with understanding and respect by a wise person. There are some fools though, that no matter what you say and do, will always find a way to hate on you for it. They may even dig their heels into their foolish ways even more just to spite you for daring to disagree. An example would be the mothers on facebook discussion boards I've seen say things like "I can't wait to circumcise my kid just to piss people like you off". Yeah. Those discussions are definitely time wasted on fools. Especially after a few hundred mind-numbing pages of their idiocy, lol.
Anyhoo, just some scattered late night thoughts, and I'd love to hear yours :-)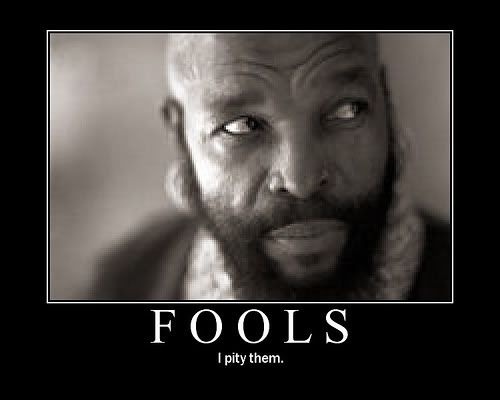 Blog Archive

My Blog List