Sunday, March 21, 2010
3:22 AM
|
Edit Post
I was recently part of a "discussion" in a horrific group that claims to be all about "Peaceful Parenting" (after copying the name from a
TRULY wonderful page
). The subject of breastfeeding came up, and quickly dissolved into some really sick ideas...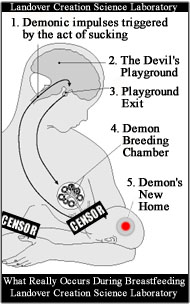 (this photo is not from the discussion, but hilariously appropriate for the topic...)
M:
"I know someone who is still nursiing a six year old child. That creeps me out, I gotta say it. I nursed G__ til she was two and I really felt that was pushing it, but when the child can say that is mommy's breast enough is enough."
K: "... it
is creepy after a certain age. Actually seeings we're talking about sexual predators. When a woman nurses her child her uterus contracts. Once that Uterus is done shrinking her genitals still pulsate which I'm sorry is creepy. She is being stimulated which is wrong. This child would be school aged"
First of all, correct me if I'm wrong, but I do not believe the genitals pulsate while breastfeeding, and yes the uterus does but I, for one, stopped feeling it a couple days after birth (and it was PAINFUL anyway!). And anyway... how does that make breastfeeding "creepy"? If these physical reactions in the mother brought her sexual gratification, then that would happen despite the age of the child, and not just because they turn a certain age. Therefore ALL breastfeeding is "creepy"?
Several people jumped in trying to correct their odd views, but they went on:
M: "So your saying your partner never stimulates your breasts when you make love? Are you from Utah? K__ I agree with you completely. uterine contractions are a big part of an orgasm. There are lots of ways to comfort a child. Sexual gratification should be your partners responsibility not your childs."
T
hese people are TWISTED to even be capable of this sort of thinking! Yes, my partner does sometimes touch my breasts and nipples in a sexual way. What does that have to do with breastfeeding? I also happen to use my mouth and hands in sexual ways... does that make me a "sexual predator" if I use those same lips and hands to kiss and hold my children in a normal motherly way? I even... *GASP*... use my vagina for sexual purposes! Should I have scheduled c-sections? Heaven forbid my babies come in contact with something that is my "partner's responsibility". If breastfeeding is sexual just because it involves what they believe to be sexual body parts, then by their logic, eating is sexual because it involves my mouth, a sometimes sexual part of my body. But no... I happen to have the mental capacity to separate a normal every day act from a sexual one. I can kiss my husband and get turned on. I can kiss my children and NOT get turned on. Wow, I'm magic! My husband can touch my breasts and turn me on. My children can touch my breasts and NOT turn me on. AMAZING. How is this a hard concept to grasp? Breastfeeding is FAR from sexual, and the fact that these people can connect a normal mothering function to sex and perversion scares the crap out of me and suggests the very pedophilic mind-set they are accusing myself and others of. There were more horrified responses to these women and their strange ideas, but they did not relent of course.
M: "All I am saying is that I have taught my child to feel secure without needing oral gratification to relieve stress, fear or a cut on the knee."
Wow... so now mothers that nurse their children are bad parents because we're not teaching them to feel secure in other ways? This group keeps preaching about "respect for all", yet is so obviously lacking it for mothers who breastfeed past a certain arbitrary age line.
Breasts are only sexual to people who are conditioned to believe they are. Babies/children wouldn't find breastfeeding any more sexual than eating an apple or getting a hug. There are cultures that go topless or even completely naked, and they aren't perpetually aroused because of it.
I like how
this article
addresses the issue:
Certainly people in the US, UK, Australia, and other countries think of breasts as being a sexual organ. However, the obvious biological function of breast is to make milk for the baby. Human reproduction can certainly be carried on without ever touching the breasts, so breasts are
NOT
inherently a sexual organ.
But are they somehow
both
a feeding machine and secondarily a sexual organ, as many think? Consider the fact that about 100 years ago woman's ankles were very sexual in men's minds. And tiny feet were a fetish for Chinese men in times past. All kinds of parts of female body have been inspiring to men during history and in various cultures, so we ask you to consider that breasts simply have been turned into a similar fetish in US society and others influenced by it.
Breasts are a part of the "whole package of a woman", and men can easily respond sexually to seeing a woman — but the difference is that breasts
in themselves
are not any special "arousal" machines or obsession points UNLESS the influences from around you have wired your brain to think so. In other words, if a man grows up without this "breasts = sex" influence from media, TV, magazines, and peers, then to him, female breasts will not be any more special than a woman's face, feminine hair, wide hips, narrow waist, or other such feminine characteristics.
Also, please read our article
Are breasts and nipples sexual organs?
. Nipples are a sensitive body part (though the sensitivity depends on hormones), and rubbing or stimulating them releases oxytocin, but it is for this purpose: nipple stimulation (as by baby's suckling) causes the brain to release hormone oxytocin, which then "opens up" the doors of the milk-making cells so the milk will flow in the lactating breast. That is all scientifically well documented.
Many women have "learned" that touching nipples is supposed to excite them sexually - so then it does, but it is the brain that is responsible for their sexual feelings. Our mind is very powerful; after all, some people get sexually aroused by thinking about certain fruits. But this connection "nipple rubbing = sexual arousal" in the mind does not make nipples by nature an erogenous body part.
"
Well, we do have a peculiar obsession with breasts in this culture. A lot of people think it's just the human nature to be fascinated with breasts but in many cultures, breasts aren't sexual at all. I interviewed a young anthropologist working with women in Mali, in a country in Africa where women go around with bare breasts. They're always feeding their babies. And when she told them that in our culture men are fascinated with breasts there was an instant of shock. The women burst out laughing. They laughed so hard, they fell on the floor. They said,
"
You mean, men act like babies?



If you think breastfeeding is perverted, YOU'RE the pervert, The End.





(YES, I know the image at the beginning is from a SPOOF SITE, for crying out loud. It just happens to be hilarious and relevant to this topic of freaks who believe this crap)

Blog Archive

My Blog List